How to Improve Amazon Account Health - A Seller's Guide!
Anyone who sells on Amazon understands that a healthy Amazon Seller account is key to a successful business. But what many sellers may not realize is just how vital account health can be when it comes time to sell their business. 
If you keep the metrics reasonable, selling on the retail giant becomes easy. On the other hand, if your Amazon account health starts to deteriorate, your authority dwindles, and subsequently, the sales begin to drop.
And it doesn't stop there. Poor health also plays an integral role when you go on to flip your business as buyers look for accounts that can give them long-term stability. If your account is in poor health, it will get a lower valuation, or worse, it may not get sold at all. 
Are you interested in getting a quick valuation of your FBA business? Check out our valuation calculator!
This blog is about Amazon account health: how we define it, how we check it, how we measure it, and how to manage it better. Let's dive in.
Here's what to look out for
How Do We Define Amazon Account Health?

Importance Of Account Health

How To Check Health In Amazon Seller Central

How Is Amazon Account Health Score Calculated

How To Keep The Account Healthy

Drawbacks Of Not Addressing Health Warnings

Where To Check The Seller Status
What is Amazon Account Health?
Amazon Account Health is a section under Seller Central that allows you to analyze whether or not your sales operations are according to the performance requirements and conditions set by the e-commerce giant. 
Amazon strives to be a customer-centric company and expects its sellers to do the same. Therefore, it places specific standards sellers have to match and monitors them via Amazon Account Health. 
Similar to a warning signal that tells you when to buckle up, it is meant to help sellers avoid Amazon policy violations and encourage them to give their best service to the consumers. 
To break it down, the Account Health Page is divided into three main categories.
Customer service performance
This metric is concerned with processes that occur after the order is dispatched and is used to judge the seller's ability to provide good customer service. It is determined by the account's order defect rate or the number of negative reviews, A to Z claims, and chargebacks.
Product policy compliance
This metric shows how many violations or problems you've had with your account. It includes intellectual property violations, product authenticity, and condition complaints, food and safety issues, and listing policy violations. You want to be cautious with these policies and keep the metric to zero or as low as possible.
Shipping performance
This metric is for FBM sellers and pertains to the seller's order delivery pattern. It alerts the seller when their shipping pattern is falling behind. The indicators include late shipping rate, pre-fulfillment cancel rate, and valid tracking rate. 
What Is an Amazon Violation?
To ensure the best service and quality, Amazon enforces specific policies that sellers must abide by, such as the seller code of conduct and other program policies. An Amazon violation is the failure to meet the minimum threshold of major key performance indicators or the failure to adhere to regulations set for sellers. These violations dent your account health as well.
Some examples of Amazon policy violations are 
Product safety violations revolve around safety complaints and restrictions and occur when certain products are not stored or handled the way they should be. 

You may face restricted product violations if you're selling products that are not permitted for sale.

An authenticity violation can occur if Amazon has a reason to suspect you're selling counterfeit products.

You may get a listing policy violation if the ISBN of your book doesn't match your listing attributes.
What Is an Amazon Listing Violation?
As mentioned above, there are many more violations, but the most common one sellers have to face is the listing policy violation. A listing violation occurs when the seller does not comply with the rules for listing their products. The violation can be based on tampering with a listing attribute or not heeding the restrictions.
General listing restrictions can be found here.
Importance of Amazon Account Health
Most sellers overlook checking their account health and sweep it behind other seemingly more essential processes because it is difficult to understand. That is until a violation hits them, and things start to go south. 
However, they don't realize how useful this feature is. Regularly monitoring your Amazon Account health can help you prevent suspensions, meet your KPIs and find areas of improvement to ensure your account lives a long life.
Having stellar account health also allows you to get a prime badge for seller fulfilled orders, increasing your buy box wins and sales.
Furthermore, having a healthy account can give you more time to grow your business, improve sales, increase your recurring customers, and even sell your account for a considerably high valuation.
How to Check Amazon Account Health
Here's how to perform your regular Amazon account health checks.
Head over to your seller account

Under the performance tab, select "Account Health."
You'll see the Amazon account health dashboard. From here, you can check your account health rating, your violations, and your metrics.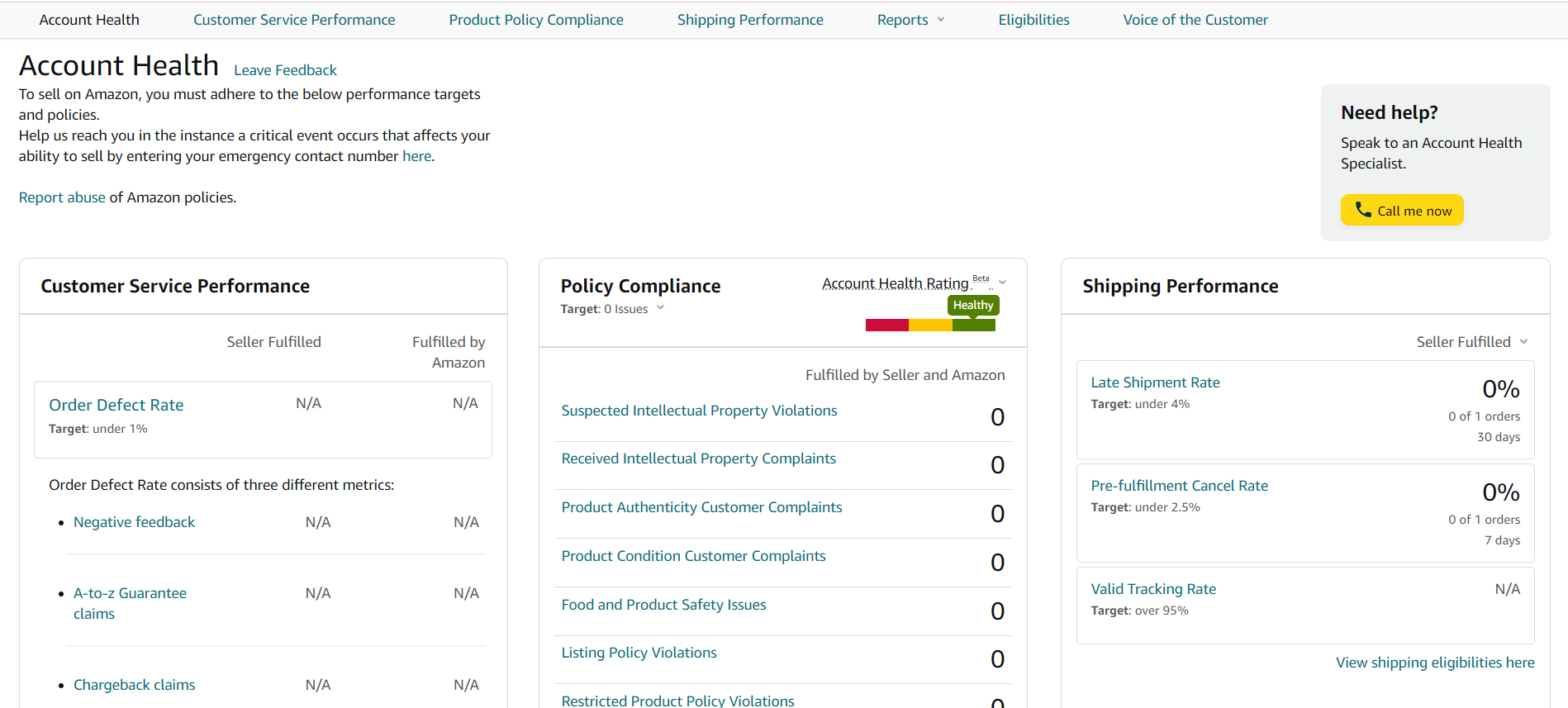 In addition to Seller Central, Amazon also communicates your Account Health status through:
Amazon seller mobile app

Emails

Phone

Application programming interface (API)
What is Account Health Rating?
The Amazon Account Health Rating (AHR) feature appears on the top right corner of the Policy Compliance column and indicates which stage your account health is at. 
It considers the number of unresolved violations, their severity, and how they affect customer service. The rating starts from green, which shows good, moving towards amber, which shows your account is at risk, and then down to red, indicating poor health.
How Amazon Measures Account Health Score
So we know that Amazon seller performance is reviewed regularly, but how is it measured?
The e-commerce giant uses metrics such as ODR, LSR, Pre-fulfillment Cancel Rate, Invoice Defect Rate, and Valid Tracking Rate to calculate Amazon Account Health.
Let's discover these key Amazon account health metrics in further detail.
What Does ODR Mean on Amazon?
ODR stands for Order Defect Rate. It measures a seller's capability to provide a seamless customer experience. According to Amazon, ODR shows the percentage of orders with at least one or more poor customer service indicators. These indicators include A-to-z Guarantee claims, negative feedback, and credit card chargeback claims.
Amazon keeps an eye on your ODR for orders placed within 60 days. To achieve a satisfactory ODR, sellers must ensure that these metrics aggregate to no more than 1%.
Invoice Defect Rate
Amazon introduced a new performance metric called Invoice Defect Rate (IDR) in line with the Amazon Business invoicing policy. It is the share of orders placed by Amazon Business customers for which you have not provided a downloadable VAT invoice for tax and accounting purposes within one business day after the shipping confirmation. 
Amazon recommends sellers maintain an Invoice Defect Rate of under 5%.
Late Dispatch Rate
FBM sellers must confirm the shipment of their orders by the expected date mentioned so the customers can see the status of their shipped orders.
The Late Dispatch Rate (LDR) represents the number of orders confirmed after the expected dispatch date. This KPI considers the percentage of total orders within a 10 or 30-day duration. As per Amazon's policy, sellers must maintain a late dispatch rate of under 4%. Anything above may result in a warning from Amazon or account suspension.
Cancellation Rate 
The Cancellation Rate (CR) measures the percentage of orders canceled by sellers before being shipped or confirmed in the past 7-day timeframe. It is worth mentioning that the cancellation rate is not impacted if a customer cancels a pending order. 
As per Amazon, this metric must be under 2.5%.
Valid Tracking Rate
Amazon's customers depend on tracking numbers to find out where their items are and when they can expect to receive them. Displayed over 30 days, the percentage of total orders given valid tracking IDs is measured by the Valid Tracking Rate (VTR). 
Ensure that this metric stays above 95%, and you will be good to go.
How Do I Keep My Amazon Account Healthy?
Now that you know the importance of account health and the thresholds set for it – the question is how to maintain it. Here are some practices that can help you keep your account fit and well.
Provide Great Customer Service
The best way to keep a low Order Defect Rate (or ODR) is to sell high-quality products that live up to their claims. 
You must maintain positive customer feedback and get as few 1-2 star reviews as possible. You can avoid negative reviews and A-Z claims by ensuring your listing information is accurate and focusing on why most customers react negatively.
Answer customer concerns as soon as possible. You can download the seller app to promptly receive questions and reply to them, even when you're not actively working. Put yourself in the customer's shoes and treat them how you like to be treated.
Always ship products to the customer's verified address to avoid chargebacks and use a shipping carrier that provides integrated tracking.
Better Shipping
If you use fulfillment by Amazon, you don't need to worry about shipping. Still, if you use Fulfillment by Merchant, the best way to maintain the metrics is by creating effective SOPs for delivering products.
Ensure you have a high on-time delivery rate and confirm shipment within the timeframe to avoid late shipping. Give the customer the required information after they place an order and dispatch it swiftly to prevent a high cancellation and invoice defect rate. 
Adhere to Policies
As a seller, you should understand the intellectual property laws and other policies governing the products you intend to sell. Search the seller central help bar to find out about Amazon's various policies.
If you face a violation or have items removed from the sales catalog, it is essential to follow the appeals process and provide the necessary documents immediately. Maintaining invoices from a good supply source and containing all applicable safety compliance documents increase the likelihood of reinstatement. 
Keep Up With the News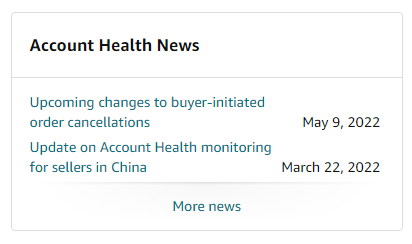 Amazon has set up an account health-related news section which can be found at the bottom of the Health Dashboard. The support team regularly publishes articles containing the latest updates in the algorithms and policies, tips for meeting targets, and warnings. Use the news and Amazon policy reports to keep yourself informed and act accordingly.
Set Reminders 
We advise sellers to monitor their policy compliance section frequently. Set up reminders to check your account health, so you can proactively tackle the issues before they arise and be alerted if something goes wrong.
When to Check Your Amazon Account Health?
You should check your account health at least once a week and as often as possible to ensure your performance is stellar. However, if you are a new seller or are adding an SKU to your catalog, you should check it 48-72 hours after creating an offer to confirm you are not violating any terms. 
How Long Do Amazon Violations Stay?
Violations are removed if Amazon confirms that the listing enforcement action was taken or if the rights owner retracts an intellectual property complaint. They stay on your account for around six months. While the AHR updates within 24-48 hours.
What is Amazon Account Health Support? 
The Amazon Account Health Support is a team of Amazon Seller Support representatives who are specialized in helping sellers with their appeals and performance-related problems.
They also have access to records of the Seller Performance Team which they can use to give an insight on why your selling privileges were disrupted, how you can address them, and tips to avoid complications in the future.
How Do I Contact Amazon Health Support?
You can only contact Amazon Health Support directly from your Seller Central. 
To request contact from Health Support:
Expand the "Performance" drop-down menu from your seller account's homepage and click on "Account Health."

Select the text box on the top-right corner that says "Call me now," and you'll reach them.
Amazon Account Health at Risk—Not Addressed, What Happens Then?
Amazon diligently alerts sellers when they are not complying with the policies or if their account is at risk. This review aims to allow sellers to improve their performance before Amazon takes further action.
Not addressing the health warnings leads to customer dissatisfaction, increased negative feedback, and A-Z claims, bringing your sales down. 
If your account status is poor and you don't take the required action, there is an extremely high risk of listing suspension, account suspension, and even losing your account for good.
Now, you must be wondering where and how you can determine whether your account is safe or at risk. Read on to find out.
How do I check my seller status on Amazon?
You can find out whether your account has been suspended by checking your Performance Notifications within Seller Central. 
You can also check your seller status on Amazon by navigating to the top right of your account and clicking on 'Settings.'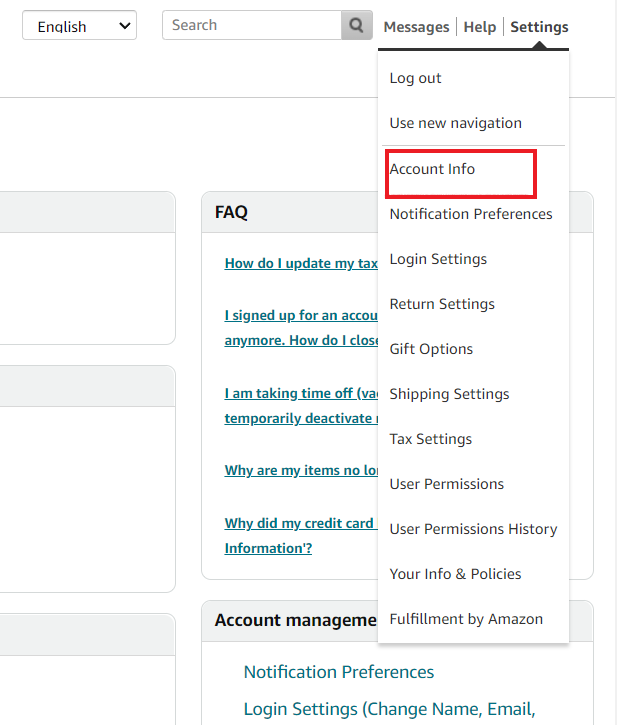 Select 'Account Info' from the menu, which will open up the Seller Account Information page. You can check if your listing status is active or suspended in the box on the left.
Devising a Plan of Action (POA)
If your listing status is suspended or your account is deactivated, you must submit an appeal to reinstate your listing/account and resume selling. You will need to create a plan of action that will cover the root causes, the corrective action, and the preventive measures you will take.
An effective POA is clear, concise, and divided into paragraphs. First, address what the violation was and mention the ASINs affected. Next, answer the following questions in separate paragraphs; 
What went wrong on your end?

What are you doing to fix it? and 

What will you do to prevent it in the future?
Be honest and assure them that you will do your best to comply with the terms of services and selling policies.
Conclusion
To wrap it up, in this blog, we discussed all things Amazon Health – from the metrics, you should look out for and why maintaining good health is essential to checking your seller status and improving your account health and everything in between.
We hope you've understood the workings of your account health and are ready to check your status and improve your account! 
Remember that good account health is a non-negotiable prerequisite for flipping your Amazon business.
Are you interested in getting a quick valuation of your FBA business? Check out our valuation calculator!